Spaceweather.com
June 11, 2019: On June 8th and 9th, many people who have never previously heard of "noctilucent clouds" (NLCs) found themselves eagerly taking pictures of them–from moving cars, through city lights, using cell phones and iPads. "I have never seen clouds like this before!" says Tucker Shannon, who took this picture from Corvallis, Oregon: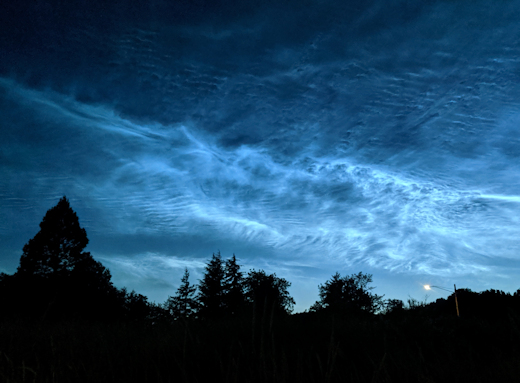 "I heard that they may have been seeded by meteoroids," says Shannon.
That's correct. NLCs are Earth's highest clouds. Seeded by meteoroids, they float at the edge of space more than 80 km above the planet's surface. The clouds are very cold and filled with tiny ice crystals. When sunbeams hit those crystals, they glow electric-blue.
Noctilucent clouds used to be a polar phenomenon. In recent years, however, researchers have noticed their electric-blue forms creeping south. Is it climate change? Or the solar cycle? No one knows for sure.
This past weekend…
View original post 172 more words