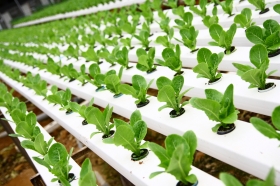 A pilot aquaponics experiment is now underway in the Cook Islands that has the potential to become the South Pacific region's best chance for preventing food shortages.
Aquaponics  is a sustainable food production system that combines a traditional aquaculture (raising aquatic animals such as snails, fish, crayfish or prawns in tanks) with hydroponics (cultivating plants in water) in a symbiotic environment. In aquaculture, effluents accumulate in the water, increasing toxicity for the fish. This water is led to a hydroponic system where the by-products from the aquaculture are filtered out by the plants as vital nutrients, after which the cleansed water is recirculated back to the animals. The term aquaponics is a portmanteau of the terms aquaculture and hydroponic.
The project's long-term objective is to give Pacific islanders — who are facing climate-related issues such as drought and fish poisoning — a way to sustainably grow crops using minimal water and no pesticides.
History of Aquaponics
Aquaponics has ancient roots, although there is some debate on its first occurrence:
Aztec cultivated agricultural islands known as chinampas and are considered by some as the first form of aquaponics for agricultural use where plants were raised on stationary (and sometime movable) islands in lake shallows and waste materials dredged from the Chinampa canals and surrounding cities are used to manually irrigate the plants.
South China and Thailand who cultivated and farmed rice in paddy fields in combination with fish are cited as examples of early aquaponics. These polycultural farming systems existed in many Far Eastern countries and raised fish such as the oriental loach (泥鳅, ドジョウ),[14] swamp eel (黄鳝, 田鰻), Common (鯉魚, コイ) and crucian carp (鯽魚)[15] as well as pond snails (田螺) in the paddies.
Links and Sources:
Related articles