Cities are systems of tremendous, ever-evolving complexity. Responsibly guiding an area's development requires spatial information that's robust, nuanced and constantly updated, as well as the problem-solving skills to apply that information. This challenge has made geographic information science and technology (GIST) invaluable to urban planners.
Spatial data leads the way to improving quality of life and building sustainability. GIS professionals use spatial thinking to transform that data into actionable insight and solutions.
---
WHAT IS GIS USED FOR IN URBAN PLANNING?
One of the reasons why GIS is important in urban planning is the ability to better understand current needs for a city. We can design the city or alter the current to fulfil those needs. On processing geospatial data from satellite imaging, aerial photography and remote sensors, users gain a detailed perspective on land use and infrastructure. As urban populations grow , the importance of GIS lies in its ability to handle the vast amounts of information necessary to balance competing priorities and solve complicated problems, such as optimizing new building placement or determining the feasibility of a waste disposal site.
These powerful tools help planners understand the needs of densely populated areas, but they also adapt to examining smaller towns and even informal settlements. The ability to run a variety of queries and analytics on GIS data means experts can evaluate how new construction will fit in with existing infrastructure and meet regulatory demands.
GIS technology empowers planners with enhanced visibility into data. They monitor fluctuations over time, evaluate the feasibility of proposed projects and predict their effects on the environment. GIS software can also show all relevant stakeholders exactly what the changes on the ground will look like to help them make better decisions. For example, GIS software may generate visualizations of an area's current environmental conditions and allow users to draw comparisons between the anticipated results of proposed development plans.
---
Urban planners in both the public and private sector employ data-driven methods to address a wide array of issues that have long-term implications for communities and the surrounding landscape.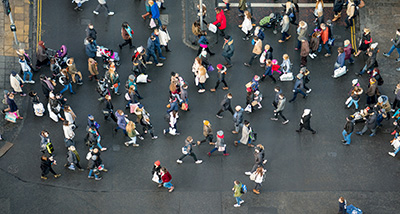 Some of the common applications for GIS include:
Review and analysis of plans for development.
Checks on regulatory compliance.
Review of environmental impact.
Preservation of historic sites.
Regional planning beyond the borders of a city or town.
Mapping the delivery of utilities and planning for service interruptions.
By performing land use analyses, planners can guide new developments to areas that are less prone to damage from natural disasters. Synthesizing geographic information with financial data might lead to revitalizing an urban area in need of new businesses.
For example, GIS software allowed the City of San Antonio Planning Department to collaborate with other stakeholders in the initial stages of the ongoing efforts to redevelop the Broadway Corridor. GIS offers the means to synthesize information from a diverse set of sources, model the outcomes of multiple courses of action and share data among the San Antonio Public Works Department, the Alamo Area Council of Governments, a group of architects and Environmental Protection Agency staff in Dallas and Washington, D.C. Experts from many different disciplines found common ground and created actionable plans for making services and amenities more accessible and travel easier for bikers and pedestrians.
---
Source(s):