Source: https://www.pexels.com/photo/person-wearing-white-silicone-strap-black-smart-watch-267394/
If you're not using a smartwatch yet, then you're clearly missing out on a lot. Imagine all the functionalities of your phone compressed into a wearable device. That's the smartwatch, and it does so much more than just tell the time.
Since its emergence in the market, smartwatches have been constantly innovated to contain bigger, better, and smarter features. Check out our comprehensive buying guide plus the best smartwatch models for this year.
How to Pick a Smartwatch
Before you buy the first smartwatch that piques your interest, consider these factors first:
Compatible with your phone's OS
The very first thing to confirm when buying a smartwatch is if it's compatible with your phone. Don't buy a smartwatch that doesn't have the same operating system (OS) with your smartphone. For example, Apple Watches will only work with iPhones, so it might not be an option for you if you're using an Android phone.
Although some smartwatches can be used on their own, they are mostly designed as companions for your smartphone. Many brands use Wear OS, which is supported by iOS and Android. However, you should double-check if the smartwatch that you want can be connected to your device if they have a different OS.
Connectivity
You'll need to connect your smartwatch to the internet to download apps, stream music, make calls, and more. Make sure to check its connectivity settings. Aside from being Wi-Fi enabled, it should also have cellular connectivity. This is helpful if you don't carry your phone around with you all the time. Otherwise, a Wi-Fi connection is sufficient.
App Selection
You'll want a smartwatch that you can do many things with. From music apps like Spotify to basic functionalities like a calculator, a wide range of app selection is important.
If you need a smartwatch as an all-around device, Apple currently offers the largest selection of apps. If you need it as a fitness tracker, then choose a smartwatch that's specifically designed for this, such as Fitbit.
Battery Life
Generally, smartwatches don't have long battery life, especially Wear OS and Apple Watches. Because of the full-color display, apps, and connectivity, these smartwatches usually last for only a day. You might have to recharge them at night.
Fitness trackers like Fitbit have the best battery life among all smartwatch brands. This is because it's only used for working out. Plus, it has a sleep tracking feature, so longer battery life is needed so you can wear it in bed.
Price
Newer smartwatch models tend to be pricier, with Apple Watches leading the pack. The price of smartwatches ranges from $200 to $500. It depends on the brand, features, and accessories that you're buying it with.
If this is your first time buying a smartwatch, you might want to choose the least expensive option first. Then, after you've tried the device for several months, you'll know which features you need and which ones you can do without. You can decide if you need an upgrade or stick to your current model.
Design
Your smartwatch is also a part of your outfit, so you should consider the design too. More and more brands are creating round faces now. Newer models have also become thinner and smaller. If you want to personalize your smartwatch, look for a model with changeable straps or bands.
Best Smartwatches for 2020
Apple Watch Series 5
Source:https://store.storeimages.cdn-apple.com/4982/as-images.apple.com/is/MXP42_VW_PF+watch-40-alum-gold-nc-5s_VW_PF_WF_CO?wid=700&hei=700&trim=1,0&fmt=p-jpg&qlt=95&op_usm=0.5,0.5&.v=1589938183000,1569365628506
Tired of raising your smartwatch to your face to turn on the display? The Apple Watch Series 5 will solve this dilemma. Although it doesn't have a lot of upgrades from its predecessor, it now features an Always-On Retina Display. This way, you can always see the face without having to unlock it.
What sets this smartwatch apart from its competitors is the array of options that you have. You can personalize your watch by choosing your preferred strap (loop, band, or leather) and case (aluminum, ceramic, titanium, or stainless steel).
Samsung Galaxy Watch Active2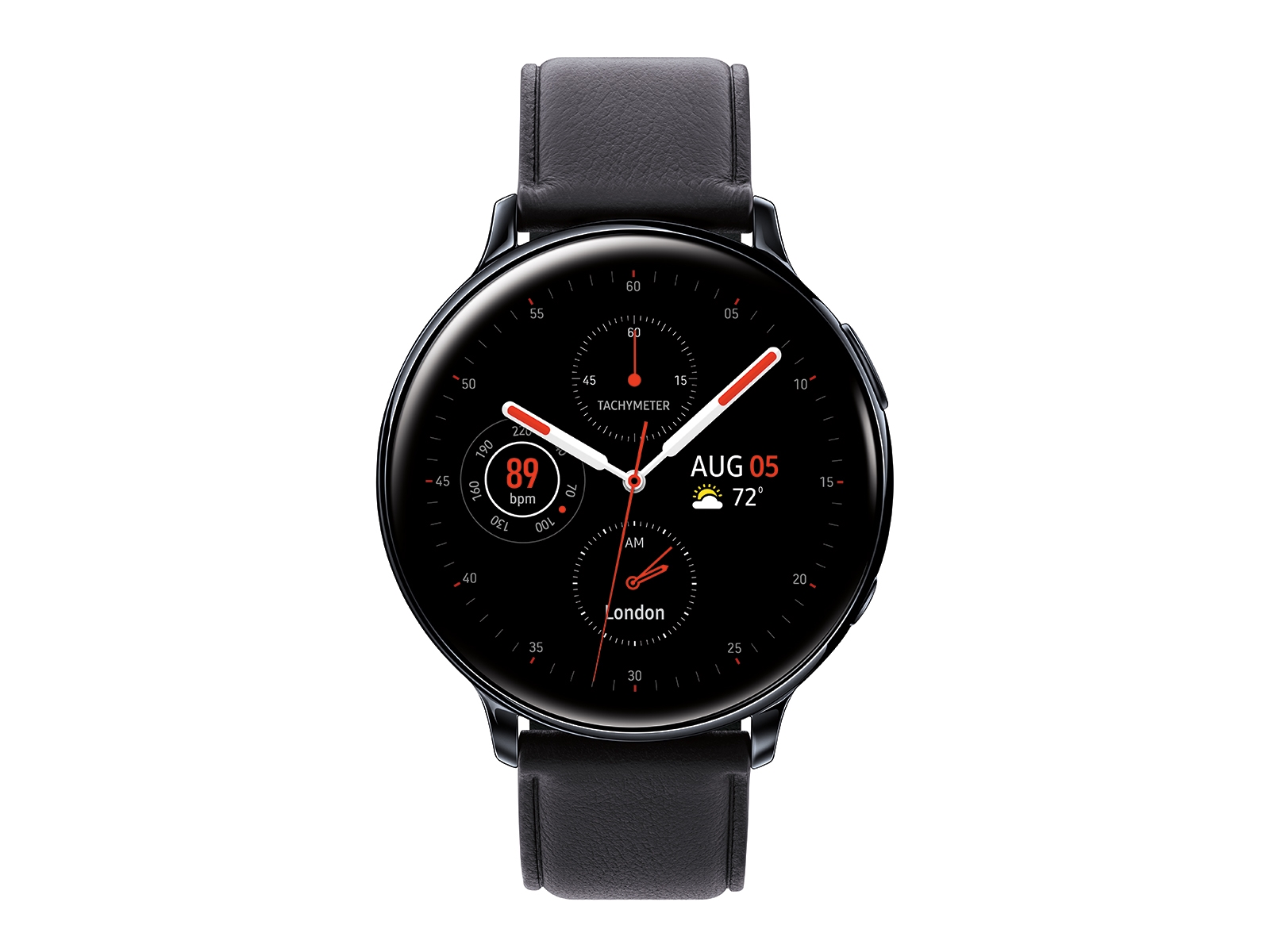 If you want a smartwatch that looks like a traditional timepiece, then the Samsung Galaxy Watch Active2 is perfect for you. It's also great for fashionistas since it can customize its look with your OOTD. Simply snap a photo of your outfit and the watch will create a watch face that matches it.
Feeling stressed? This smartwatch can also help you manage it better. The stress tracker monitors you and provides breathing exercises that can help ease your tension. It also acts as a smart assistant that lets you stay connected with the world even without your phone. Best of all, the 44mm variant has a 340 mAh battery, which is better than most models.
Fitbit Ionic
For fitness enthusiasts that are looking for a dedicated fitness tracker, get the Fitbit Ionic. It features a durable screen (Corning Gorilla Glass 3 Touchscreen), a multi-day battery, and customizable straps.
Fitbit Ionic helps you achieve your health goals quicker by giving you real-time guidance. It has a built-in GPS, heart rate monitor, and swim tracking. Best of all, it provides insights about your health that helps you adjust your workout routine and lifestyle.
Fossil Sport
Source: https://fossil.scene7.com/is/image/FossilPartners/FTW6027_6?$sfcc_fos_hi-res$
Fossil is best known for its elegant and classy analog watches. They are a crowd favorite especially because they are durable—and if it does get broken, it's easy to find parts from soflypart.com. Fossil's line of smartwatches is currently making waves for being an all-around device. Aside from fitness tracking, you can access your social media accounts too.
Conclusion
The right smartwatch can be more of a wearable accessory to you—it can also become your music player, fitness tracker, and personal assistant. This article should help you pick the right one based on your needs. Additionally, the top picks for the best smartwatches should help you determine which brands have the best features.